American Veteran Jobs
This page offers tips, strategies, and a comprehensive list of resources for American veteran jobs.
United States military veterans sometimes struggle to find a good job. The purpose of this page is to end that struggle!


See also my educational website, PTSDexams.net, for info on C&P exams with U.S. military veterans. (No ads. No affiliate links. No sales pitches.)
---
CareerOneStop
Veteran and Military Transition Center
CareerOneStop - Veteran and Military Transition Center - Sponsored by the U.S. Department of Labor.
Use the search engine on the site to find an American Job Center near you. American veteran jobs can be found with the help you receive at a Center near you.
Staff help veterans search for jobs, find training, and answer other employment-related questions.
After searching, look at the list of American Job Centers near you and find one that has a Veteran Representative (like in the image below).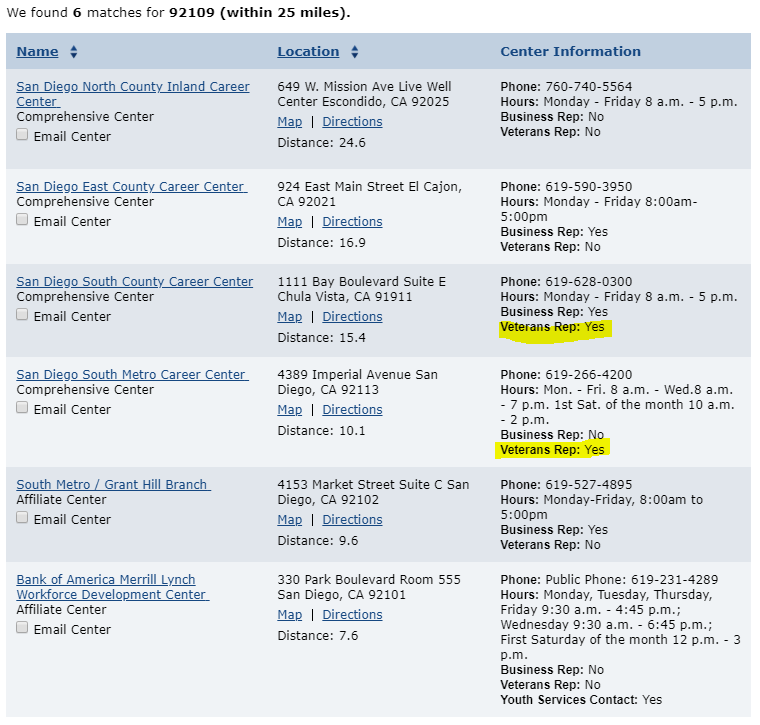 American Job Centers search results for 92109 zip code
---
FedsHireVets (Office of Personnel Management)
FedsHireVets (U.S. Office of Personnel Management) - "Feds Hire Vets is your single site for Federal employment information for Veterans, transitioning military service members, their families, and Federal hiring officials."
Veteran Employment Program Offices (VEPO) Directory - List of Veteran Employment Program Offices responsible for promoting veterans' recruitment, employment, training and development, and retention within their respective agencies.

Use the VEPO Directory for targeted information about American veteran jobs and to contact the Department or other federal agency directly.
The VEPO Directory gives you specific contacts (personnel) for several federal Departments such as the Department of Transportation, Department of Defense, Department of Veterans Affairs, and the United States Postal Service.


Frequently Asked Questions (FAQ) for FedsHireVets - This page on the FedsHireVets site provides detailed information about a variety of subjects. If you are looking for American veteran jobs, I highly recommend at least scanning this FAQ page.
----
https://www.careeronestop.org/Veterans/Toolkit/find-american-job-centers.aspx
American Job Centers help people search for jobs, find training, and answer other employment related questions.
Many AJCs have Veterans Representatives who offer specialized services to veterans.
Get started by entering your location below and find out how to connect with a Veterans Representative in your area.
----
https://www.mynextmove.org/vets/
Find careers like your military job - Enter the name or code of your military classification. We'll suggest civilian careers with similar work.
Browse careers by interest - There are over 900 career options for you to look at. Find yours in one of these industries...
Search careers with keywords.
----
Careers sorted by Interests (Holland Codes) 
https://www.mynextmove.org/vets/find/interests
----
https://www.mynextmove.org/vets/find/bright
Careers with a Bright Outlook - New job opportunities are likely in the future. Careers on this page will grow rapidly in the next few years, or will have large numbers of openings.
----
https://www.dol.gov/vets/goldcard.html
The Gold Card provides unemployed post-9/11 era veterans with the intensive and follow-up services they need to succeed in today's job market. The Gold Card initiative is a joint effort of the U.S. Department of Labor's (DOL) Employment and Training Administration (ETA) and the Veterans' Employment and Training Service (VETS).
An eligible veteran can present the Gold Card at his/her local American Job Center to receive enhanced intensive services including up to six months of follow-up. The enhanced in-person services available for Gold Card holders at local American Job Centers may include:
Job readiness assessment, including interviews and testing;
Development of an Individual Development Plan (IDP);
Career guidance through group or individual counseling that helps veterans in making training and career decisions;
Provision of labor market, occupational, and skills transferability information that inform educational, training, and occupational decisions;
Referral to job banks, job portals, and job openings;
Referral to employers and registered apprenticeship sponsors;
Referral to training by WIA-funded or third party service providers; and
the Federal government;
Learn how to start a business; and
Monthly follow-up by an assigned case manager for up to six months.
Download Gold Card (PDF)
----
Department of Veterans Affairs
https://www.va.gov/careers-employment/
We can support you in all stages of your job search—from returning to work with a service-connected disability, to getting more training for new job opportunities, to starting or growing your own business. And we can connect you with Department of Labor resources for more career advice, help building your resume, and access to employers who want to hire Veterans and military spouses. Find out how you can get the help you need to build your career and find the right job or business opportunity for you.
Get Career and Employment Assistance
Manage Your Career
More Information and Resources
--
Get Career and Employment Assistance
About Vocational Rehabilitation and Employment (Chapter 31) Programs
Explore support-and-services program tracks for Veterans and Servicemembers with service-connected disabilities. Our programs can help you learn new skills, find a new job, start a new business, get educational counseling, or return to your former job.
Eligibility
If you have a service-connected disability that limits your ability to work or prevents you from working, find out if you're eligible for vocational rehab.
How to Apply
Get step-by-step instructions on how to apply for voc rehab benefits.
Educational and Career Counseling (Chapter 36)
Find out how to get free educational and career counseling as a recently discharged Veteran or a dependent family member.
Support for Your Veteran-Owned Small Business
Register to do business with VA and get support for your Veteran-owned small business.
Support for Dependent Family Members
See if you're eligible for educational and vocational counseling as the dependent spouse or child of a Veteran or Servicemember.
-----
What is VA for Vets?
https://www.vaforvets.va.gov/
The Veteran Employment Services Office's (VESO) VAforVets initiative helps Veterans and transitioning military service members find meaningful careers. At VAforVets, Job seekers, VA Veteran Employees, VA Human Resources Professionals and Supervisors can find a multitude of resources to support Veteran hiring. Additionally, Veterans can check out job openings above or visit www.usajobs.gov for additional federal employment opportunities.
--
JOB SEEKERS - VA for Vets is designed to help Veterans, transitioning service members and military spouses successfully find civilian careers in the Federal government.
Overview
Work for VA
Featured Jobs
Federal Hiring Process
Training & Resources
Veteran Resources
Military Spouse Training and Resources
Success Stories
Frequently Asked Questions
Upcoming Hiring Events
Employment Opportunities
----
https://www.vaforvets.va.gov/vaforvets/JobSeekers/Pages/default.asp
Work for VA - VA is committed to build a strong Veteran workforce. Learn how joining VA will allow you to build a meaningful career while helping your fellow Veterans.
Veterans' Careers at VA - VA is committed to hiring Veterans. If you are transitioning from the military, a Veteran already, an active Reserve or National Guard member, we invite you to explore the benefits of continuing your career at VA.
Training and Resources - Need more information about the hiring process, working at VA or applying for federal employment? Check out the training and resources.
----
Veterans at VA - At VA, we have an unwavering commitment to support our Veterans, and that includes helping them build rewarding careers within our health care system. VA gives Veterans—particularly those with disabilities—hiring preference for any available positions. Because we value the special skills and unique perspectives Veterans bring to the table. And we understand that by sharing your experiences you can continue a life of service, helping other Veterans heal and cope with being back home.
https://www.vacareers.va.gov/Careers/Veterans
Are you a Veteran interested in career opportunities with VA? If so, feel free to email the Veterans Employment Services Office (VESO) for guidance. Find other helpful employment resources, including a military skills translator, resume builder and more at www.vets.gov/employment.
Top 10 Reasons to work at VA
----
After 16 Months, State Department Ends Hiring Freeze
https://www.govexec.com/pay-benefits/2018/05/after-16-months-state-department-ends-hiring-freeze/148219/
----
Education and Training Opportunities - Training and Educational Programs Offered Within the Federal Government.
https://www.fedshirevets.gov/federal-employees/relevant-career-information/#education
Center for Leadership Development
Lead Certificate Program - OPM's LEAD Certificate Program empowers leaders to take charge of their professional development by providing a clear path to leadership education that is relevant at five different levels, from Project Team Lead through Executive. If you are already a Federal employee, LEAD offers "must have" leadership skills and provides interagency experience that puts you squarely on the path to career advancement. If you are a veteran, LEAD helps build skills to transition from a military career to a civilian career.
Partnerships with Universities
Student Loan Repayment
----
NLx - National Labor Exchange - Search Jobs from Veteran Friendly Employers
https://veterans.usnlx.com/
----
CareerOneStop.org
Put together a successful job search with resources on resumes, interviewing, networking and finding job openings.  
https://www.careeronestop.org/Veterans/JobSearch/job-search.aspx
Get in the door with a great resume or job application. 
Resumes
Cover letters
Cover letter sample
Job applications
Online applications
Portfolios
Work samples
References
Get tips to improve job search results. Strengthen your job search by using strategies that work. Find ideas to sharpen your online image and resources to help when relocating for work.
Not getting results?
Background checks
Your online image
Relocate
Are you overqualified?
Job search checklist
----
https://www.careeronestop.org/Veterans/BenefitsAndAssistance/benefits-and-assistance.aspx
The National Resource Directory connects wounded warriors, service members, veterans, their families and caregivers with those who support them. 
Veterans Employment Center - The eBenefits Veterans Employment Center (VEC) provides information and links to resources to help veterans find meaningful career opportunities and take advantage of special government and partner programs.
Uniformed Services Employment and Reemployment Rights Act (USERRA) protects civilian job rights and benefits for veterans and members of Reserve components. It also protects service member rights and benefits by clarifying the law and improving enforcement methods.
----
LinkedIn
Helping you find your new purpose
LinkedIn believes every military veteran can go on to do great things. That's why we're proud to support the military and veterans community. As you launch the next stage of your career, or as your family moves from base to base, we're offering eligible service members, veterans and military spouses one year of free access to LinkedIn Premium and LinkedIn Learning.
https://linkedinforgood.linkedin.com/programs/veterans
---
Download VA Benefit Letters
https://www.va.gov/records/download-va-letters/

To receive some benefits, Veterans need a letter proving their status. You can access and download some of these benefit letters and documents online.
---
Vocational Rehabilitation and Employment (VR&E)
https://www.benefits.va.gov/vocrehab/index.asp
For Veterans and Servicemembers
You may receive Vocational Rehabilitation and Employment (VR&E) services to help with job training, employment accommodations, resume development, and job seeking skills coaching. Other services may be provided to assist Veterans in starting their own businesses or independent living services for those who are severely disabled and unable to work in traditional employment. Click on the "How to Apply" tab to learn more and apply for Vocational Rehabilitation and Employment services.
VA's Education and Career Counseling program is a great opportunity for Veterans and Servicemembers to get personalized counseling and support to help guide their career paths, ensure the most effective use of their VA benefits, and achieve their goals.
---
---
What Do You Think?

Image of the Google sign-in icon
I value your feedback!
If you would like to comment, ask questions, or offer suggestions about this page, please feel free to do so. Of course, keep it clean and courteous.
You can leave an anonymous comment if you wish–just type your first name.
If you want to receive an email when someone replies to your comment, click the icon on the lower right of the comment box to use Google Sign-in. (Your email remains private.) 
Important: Do not type your email address or other identifying information into your comment as it will appear on the Internet for everyone to see ... and for spam bots to harvest so that spammers can sell your email address to other spammers.
---
I used Solo Build It! to build this website in 2004 and still use it today, especially for the extremely helpful business guidance and the superior search engine optimization.
Note: If you click on one of these links and you decide to purchase Solo Build It! I earn a small affiliate commission. Your cost is the same either way. If you do not want me to earn an affiliate commission, just google "solo build it". 
---